This tofu scramble is a delicious warm breakfast, and a perfect alternative to eggs! It's a great source of plant-based protein, and will keep you feeling full for hours.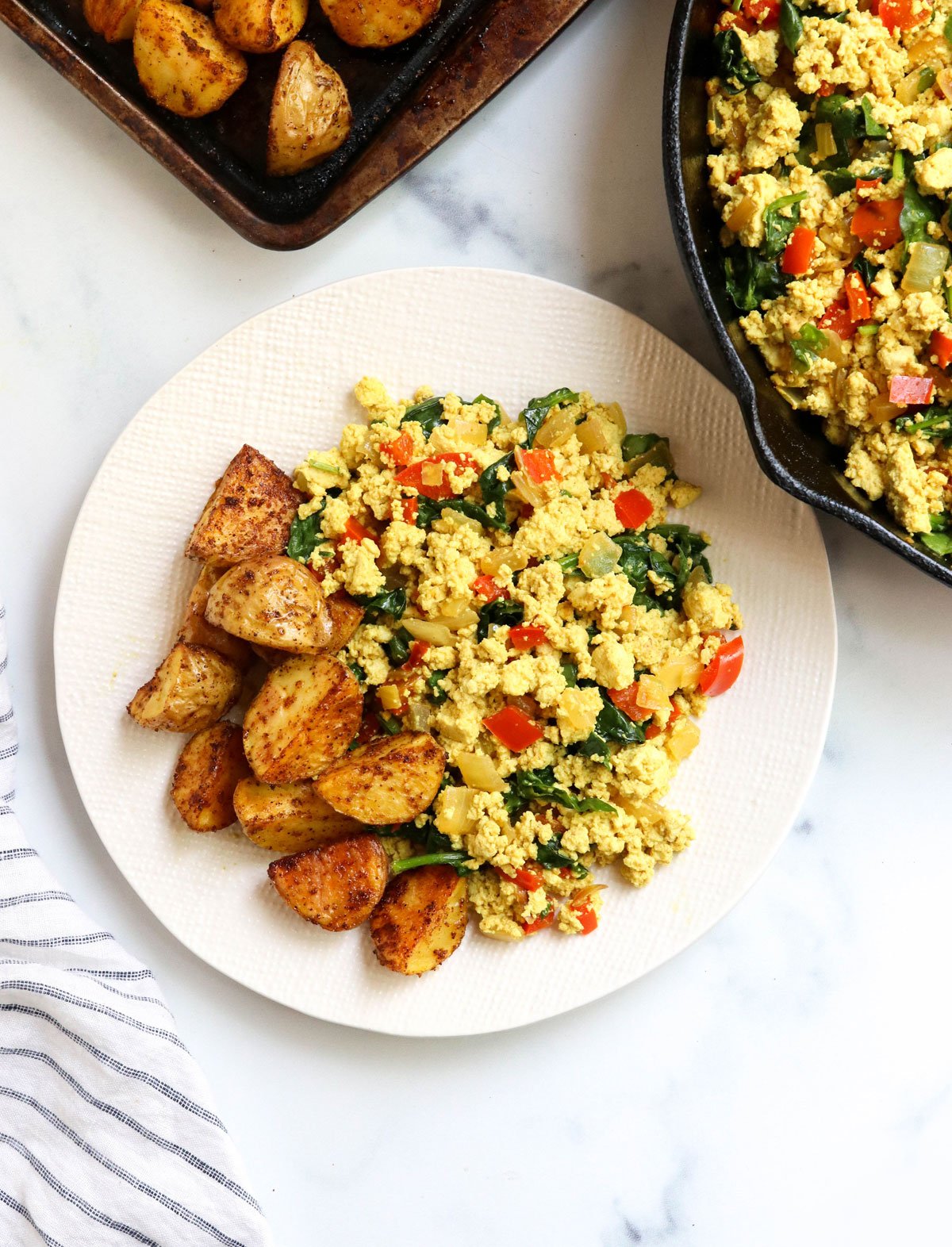 Does tofu taste like eggs? If you were to sauté plain tofu, it won't taste like eggs, but when you scramble it with aromatic veggies and a little seasoning, it really will remind you of an egg scramble!
My husband was my taste-tester on this one, and he told me he wouldn't have know this wasn't eggs if I hadn't told him. Win!
Tofu vs. Eggs
In case you're wondering which is healthier, eggs or tofu, the match-up is surprisingly close. If you compare them per serving (1 egg to a 3.5-ounce serving of tofu), the tofu has a similar amount of calories and slightly more protein.
Here's how they stack up:
Calories: egg = 78 |  tofu = 70
Protein: egg = 6g  | tofu = 8g
Fat: egg = 5g | tofu = 4g
Fiber: egg= 0g | tofu = 1g
Carbohydrates: egg= 0.6g | tofu = 2g
Cholesterol: egg = 187mg | tofu = 0mg
What else is there to love about tofu? The soy isoflavones found in tofu may benefit vascular health, and eating soy may help to lower several risk factors for heart disease.
Women who eat soy may also have a lower risk of breast cancer and research suggests it may have several anti-cancer properties.
My family eats eggs as well, but it's nice to switch it up every now and then with this alternative! I think this tofu scramble would also make an egg-cellent (see what I did there?) stuffing for a breakfast burrito.
How to Make It
How do you make a tofu scramble? Start by sautéing some chopped onion and pepper, for the best flavor. This is the base of any good scramble!
Once the pepper and onion are tender, stir in the turmeric, salt, and a dash of ground cumin, if you'd like a Southwest flavor. It's delicious either way.
Now, it's time to add in the tofu. Drain the block of tofu (no need to press it) and crumble it into the skillet with your hands.
Season with more salt and stir well with the spatula. Watch the tofu pick up the yellow color from the turmeric!
Once the tofu is thoroughly heated, and any extra moisture has evaporated in the skillet, you can add in a big handful of fresh baby spinach. It will wilt quickly from the heat as you stir it in.
Adjust any seasoning to taste, and serve warm.
How to Make Tofu Taste like Eggs
If you really want to make your tofu scramble taste like eggs, you can buy Indian kala namak, also called "black salt."
This salt is used in Indian and Asian cuisines as a flavor enhancer, and it has a sulphur flavor that tastes remarkably like eggs. If you taste it straight from the jar, it tastes like salty scrambled eggs!
You can finish your tofu scramble with this salt on top, for an extra egg-y flavor, if you'd like to, but it's not necessary.
Storage Tips
How long does tofu scramble last in the fridge? You can store leftover tofu scramble in the fridge for up to 5 days. Reheat it in a skillet over medium-high heat, until it's heated through again, for a fast morning.
Best Tofu Scramble
This Tofu Scramble is a delicious plant-based alternative to eggs! It's loaded with protein and veggies, and takes less than 15 minutes to prepare.
Ingredients
1

tablespoon

olive oil

1

small

yellow onion

, chopped (1 cup)

1

red bell pepper

, chopped (1 cup)

fine sea salt

1/2

teaspoon

turmeric

1/2

teaspoon

ground cumin

1

(14 oz.) block

extra-firm tofu

1

heaping cup

fresh spinach

(optional)

Black salt (kala namak)

, to taste (optional)
Instructions
Heat the olive oil in a skillet over medium-high heat, and saute the onion, pepper, and a 1/4 teaspoon of salt. Stir until softened, about 5 to 8 minutes.

Drain the tofu while the veggies are cooking. There's no need to press it, since you can cook off any extra moisture in the skillet. Add the turmeric and cumin to the sauteed veggies and stir briefly, then crumble the tofu directly into the pan. Season with another 1/2 teaspoon of salt, and stir well.

The tofu will start to pick up a yellow color from the turmeric, and you can break up any large clumps with the spatula and you stir. Once the tofu is hot, add in a big handful of fresh spinach, and stir again. It should wilt quickly from the heat, then it's ready to serve!

Taste and adjust any seasoning, as needed. At this point, you can add a 1/4 teaspoon of black salt for an egg-y flavor, or just season with additional sea salt, to taste. Serve warm, with your favorite sides. Leftover tofu scramble can be stored in an airtight container in the fridge for up to 5 days. Reheat in a skillet over medium-high heat until warm, about 4-5 minutes.
Video
Notes
Nutrition information is for half the batch. This is automatically calculated, and is just an estimate, not a guarantee.
The cumin adds a Southwest-style flavor to this dish. I highly recommend it, but you can omit and swap it for more black salt if you want more of a straight-up "egg" flavor.
Nutrition
Calories:
230
kcal
,
Carbohydrates:
16
g
,
Protein:
16
g
,
Fat:
11
g
,
Saturated Fat:
2
g
,
Polyunsaturated Fat:
3
g
,
Monounsaturated Fat:
6
g
,
Sodium:
133
mg
,
Potassium:
604
mg
,
Fiber:
3
g
,
Sugar:
9
g
,
Vitamin A:
2387
IU
,
Vitamin C:
101
mg
,
Calcium:
91
mg
,
Iron:
3
mg
More Vegan Breakfast Recipes
If you try this Tofu Scramble, please leave a comment below letting me know how you like it! And I you make any modifications, I'd love to hear about those, too.