Chia pudding is an easy make-ahead breakfast that you can stir together in just minutes. It's a great alternative to a bowl of oatmeal, and will keep you feeling full for hours!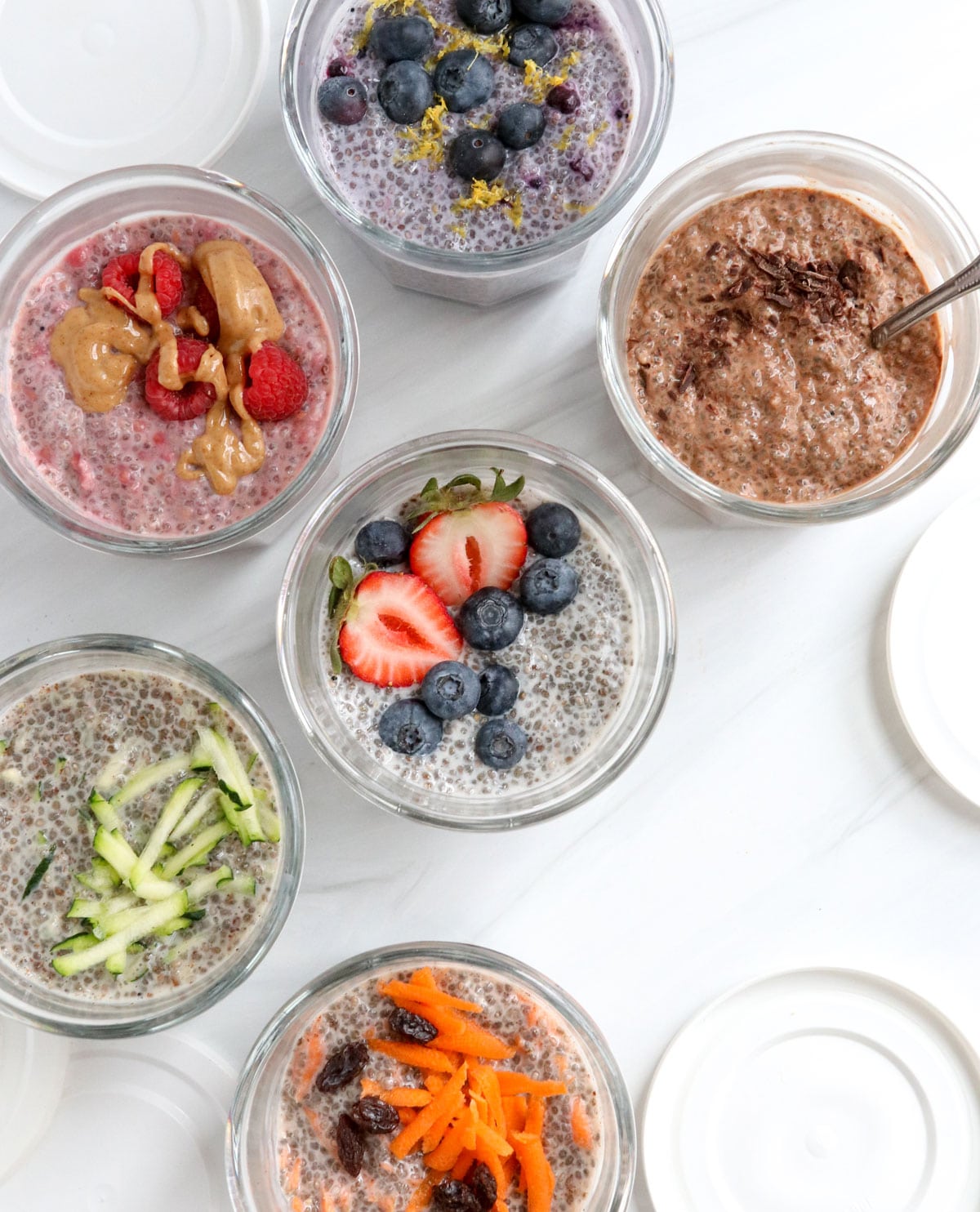 Similar to overnight oats, chia seed pudding requires just a few simple ingredients that you can stir together quickly. There's no cooking required, and it's perfect for meal prep, if you want to make several jars at the same time.
I've included 6 easy flavors below, so you can enjoy different variations throughout the week.
Chocolate Chia Pudding and Pumpkin Chia Pudding are two more healthy chia pudding recipes to try, especially if you're getting used to the flavor of chia seeds. They taste like dessert!
Why You'll Love Chia Seeds
• They are a great source of fiber. One ounce of chia seeds contains nearly 10 grams of fiber, and most of that is soluble fiber, which can help keep you feeling full.
• They contain omega-3 fatty acids. Chia seeds contain alpha linolenic acid, which has been linked to a lowering risk factors for heart disease.
• They are gluten-free. This is any easy breakfast for anyone following a gluten-free diet. When you use a non-dairy milk to make it, this recipe is also dairy-free and vegan.
• They may improve blood sugar levels. Animal studies suggest that eating chia seeds may help to improve insulin sensitivity.
• They are high in antioxidants. This includes quercetin and kaempferol, which may help to neutralize free radicals.
• They contain plant-based protein. Chia seeds have a 20% protein content, which is higher than what is found in cereal grains, like oats and barey.
How to Make Chia Pudding
1. Mix. 
To make chia pudding, you'll whisk together chia seeds, milk, and your favorite sweetener, like maple syrup or honey. I tend to use almond milk for this, but oat milk, soy milk, hemp milk, or most any other variety of milk will work just fine!
I would caution against using full fat canned coconut milk, however, as it thickens up too much when chilled.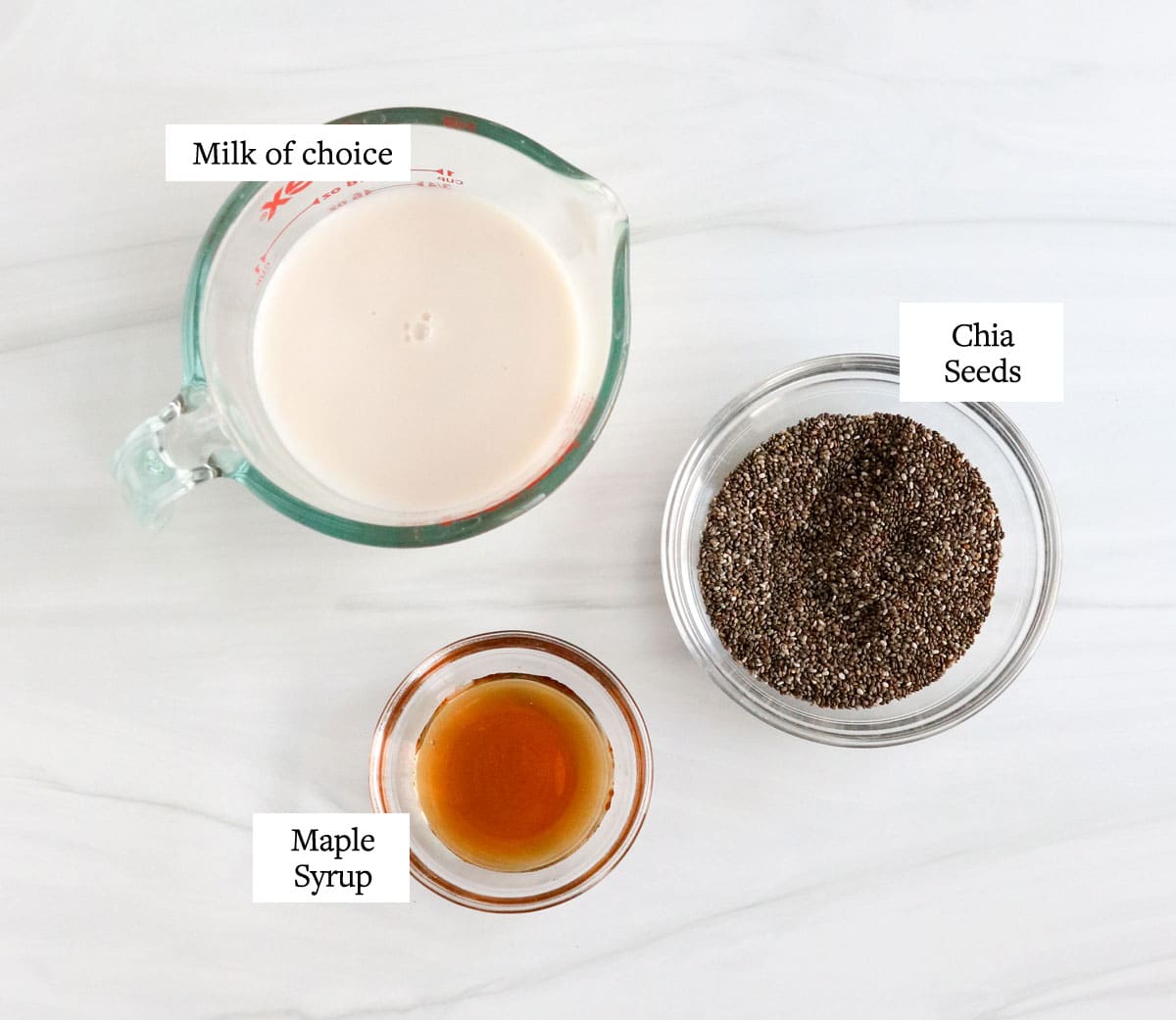 What's the proper ratio of chia seeds to liquid? 
I find that 1 tablespoon of chia seeds requires a 1/4 cup milk. For a filling breakfast, I recommend using 3 tablespoons of chia seeds to 3/4 cup milk. You can always add more liquid later, if needed, to thin out the pudding.
For a more snack-size portion, use just 2 tablespoons of chia seeds mixed with a 1/2 cup milk.
I find a whisk is helpful for breaking up any clumps in the chia pudding, but you can also prepare this in a mason jar with a secure lid, and shake well to combine the ingredients.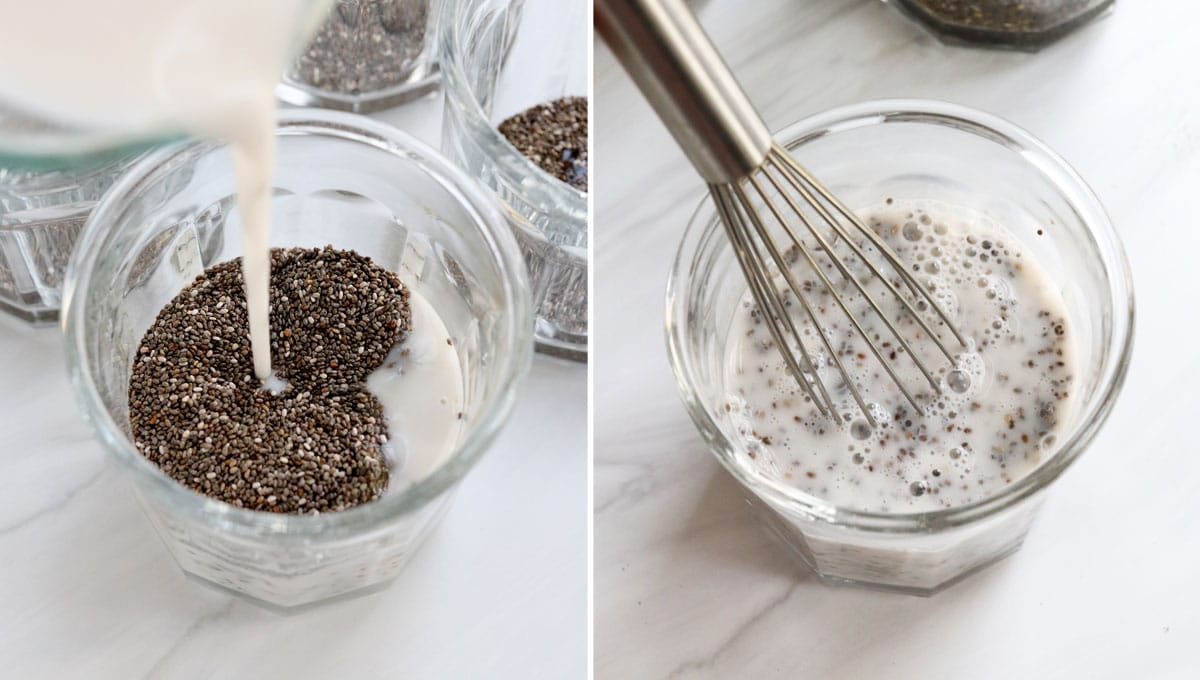 2. Add toppings. 
Customize each jar you make with a different topping or flavor. Check out the 6 ideas below, if you want to change up the flavors each day.
Feel free to double or triple the recipe, to make as many flavors as you'll consume in the next 4 days.
3. Chill. 
Once you've mixed the chia pudding together, secure a lid on each serving and store it in the fridge until you're ready to enjoy it. It takes roughly 30 minutes for the chia pudding to thicken up, but you can store it for up to 5 days in the fridge, if you'd like to make several jars in advance.
You can even store chia pudding in the freezer, if you want to make more! Simply place a jar in the fridge overnight to thaw, before you plan on enjoying it.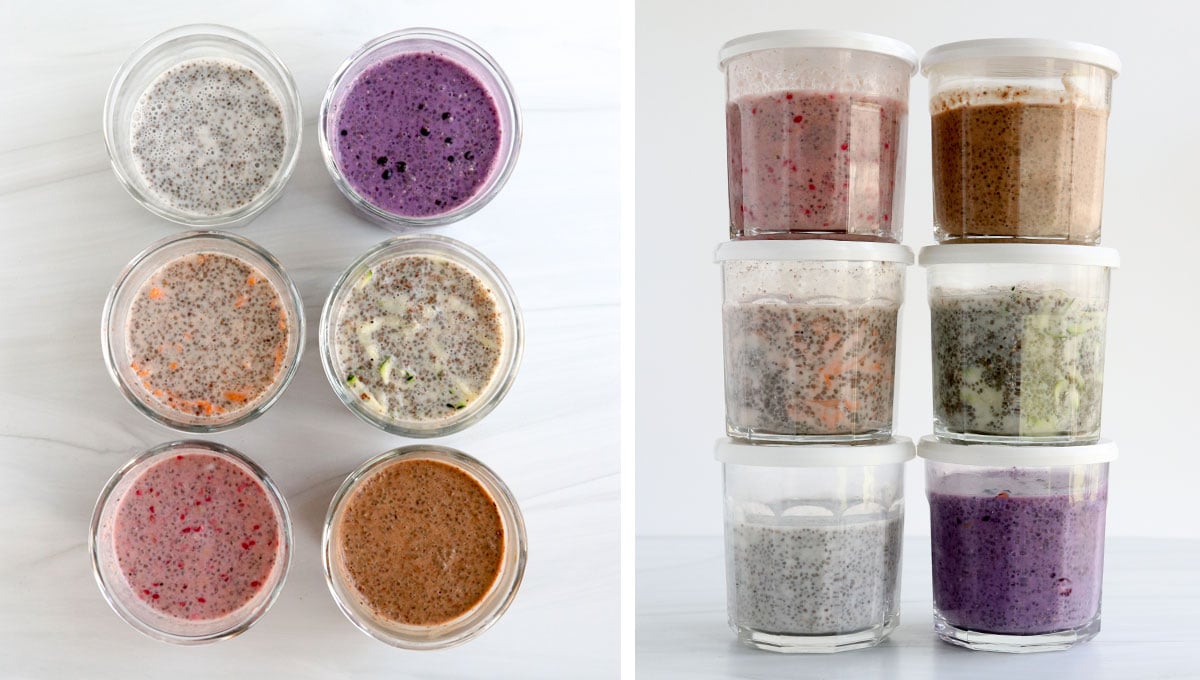 Chia Seed Pudding Flavors
Try one of these easy variations, to change up your week.
Start with this base recipe:
3 tablespoons chia seeds
3/4 cup milk of choice
1 tablespoon maple syrup, or other sweetener
Then add in any extras below, to change it up!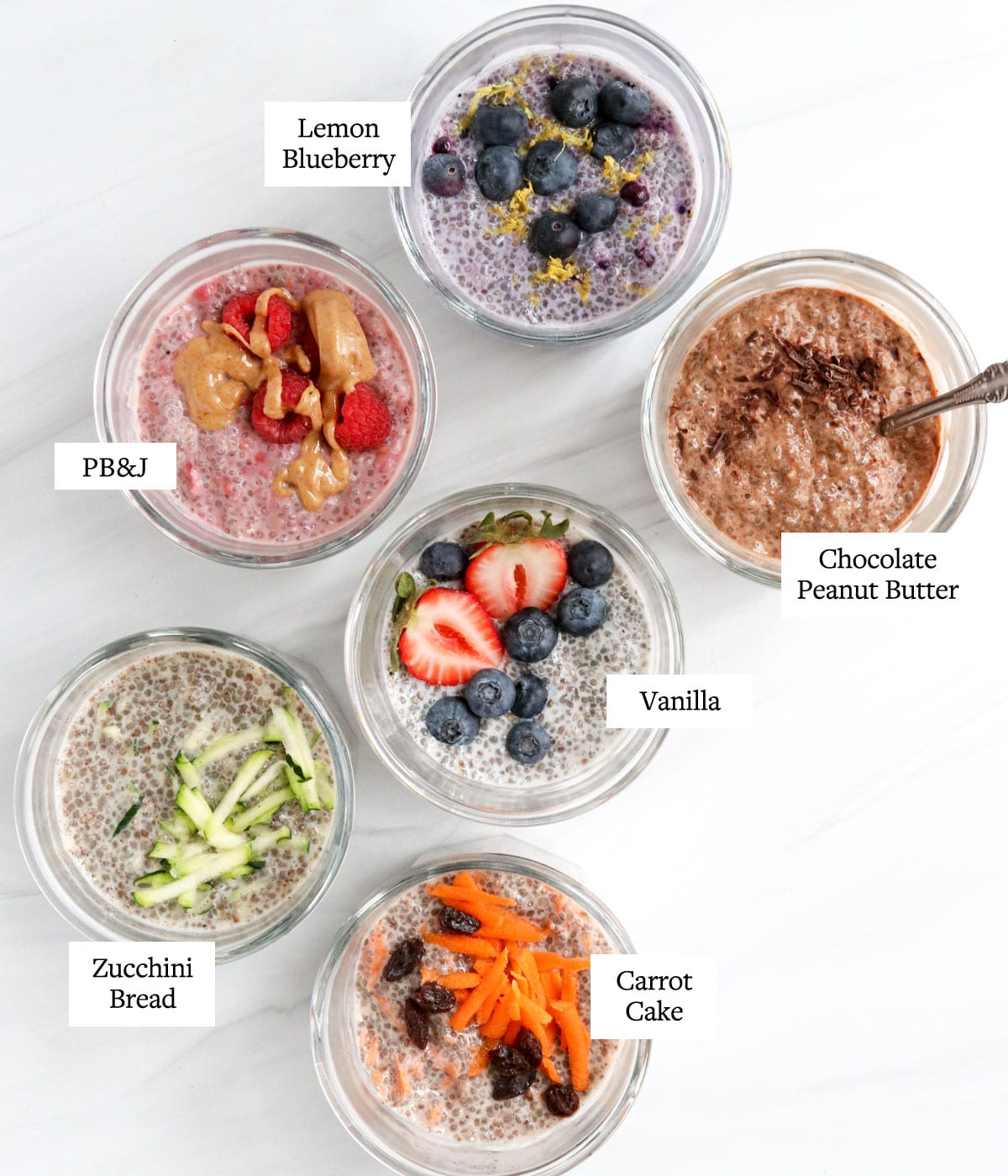 1. Chocolate Peanut Butter
To the base recipe add:
1 tablespoon cacao powder (or cocoa powder)
1 tablespoon peanut butter
Whisk well; the cacao powder will eventually blend in as you stir. For this variation, you may want to add an extra 1/2 tablespoon of maple syrup, to help counteract the bitterness of the chocolate. Garnish with a few chocolate chips, if you like.
You can swap the peanut butter for almond butter, cashew butter, or any other nut butter you prefer.
2. Lemon Blueberry
To the base recipe add:
1/2 cup frozen blueberries
1 tablespoon freshly squeezed lemon juice
the zest of half a lemon
Mix well, and then store the jar in the fridge. The blueberries will thaw overnight in the fridge.
3. Vanilla Chia Pudding
To the base recipe add:
1/4 teaspoon vanilla extract
Mix well, and then add any toppings you love. This classic flavor is particularly nice with fresh strawberries, or frozen berries on top.
4. Carrot Cake
To the base recipe add:
1/2 cup shredded carrots
1/4 teaspoon ground cinnamon
1/8 teaspoon ground ginger
Pinch of cloves
Just like carrot cake oatmeal, you can top this pudding with shredded coconut, walnuts, sliced pineapple, or any other additions you love.
5. Zucchini Bread
To the base recipe add:
1/2 cup shredded zucchini (no need to peel)
1/4 teaspoon ground cinnamon
Pinch of ground nutmeg
Mix well, and add any toppings you enjoy, like chopped walnuts or pecans.
6. Peanut Butter & Jelly
To the base recipe add:
1 tablespoon peanut butter
1/2 cup frozen raspberries (or 1 tablespoon raspberry jam)
This combination is one of my favorites! The frozen raspberries will thaw overnight in the fridge, and add the perfect "jelly" flavor without added sugar. Or try using chia seed jam, which is fast to prepare and naturally sweetened, too.
The flavor ideas are endless! You can add in mashed banana for a "banana bread" flavor, pumpkin puree for a pumpkin flavor, or any other fresh or froze fruit you love.
Frequently Asked Questions
What does chia pudding taste like? Chia seeds have a relatively neutral, slightly earthy flavor. I find their crunch more noticable in this pudding recipe, almost like you're eating tapioca pudding. When you add sweetener and a flavoring, like vanilla extract or fruit, the chia pudding taste is quite pleasant.
Can you blend it? If you don't care for the texture of chia seeds, you can blend this pudding instead. Just add the ingredients to a blender, along with an extra 1/4 cup of liquid, to help with blending.
Keep in mind that blended chia seeds taste more bitter than whole chia seeds do, so you may need to add more sweetness to the blended version.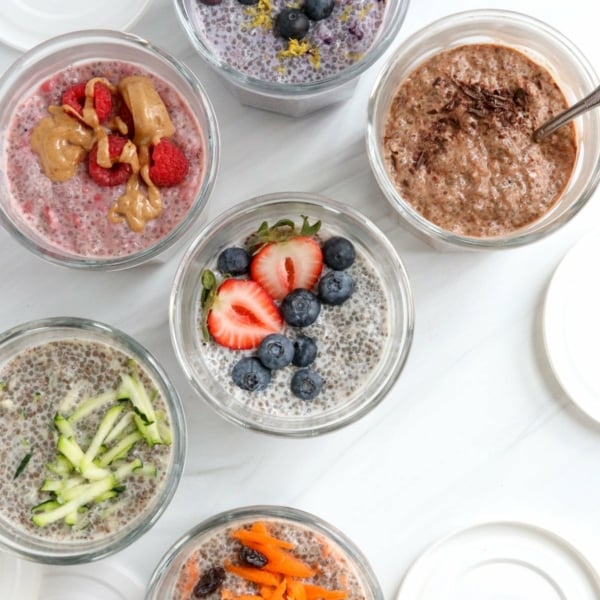 Chia Pudding
Chia pudding is a healthy breakfast made with just 3 simple ingredients. You can stir it together in minutes, and the flavor combinations are endless!
Ingredients
Chia Pudding (Base Recipe)
Carrot Cake
1/2

cup

shredded carrot

1/4

teaspoon

ground cinnamon

1/8

teaspoon

ground ginger

2

tablespoons

walnuts

2

tablespoons

raisins
Lemon Blueberry
1

tablespoon

lemon juice

zest of 1/2 lemon

1/2

cup

frozen blueberries
PB&J
1

tablespoon

peanut butter

1/2

cup

frozen raspberries
Zucchini Bread
1/2

cup

shredded zucchini

1/4

teaspoon

ground cinnamon

pinch ground nutmeg

2

tablespoons

walnuts
Instructions
Prepare the chia seed pudding base by combining the chia seeds, almond millk, and maple syrup in a small bowl or glass jar. (I recommend using a jar 14 ounces or larger.) Whisk well, to help prevent the chia seeds from clumping together.

Add in one of the flavoring options listed above, for a flavored chia pudding. For example, to make the PB&J flavor, you'll add a tablespoon of peanut butter and a 1/2 cup of frozen raspberries to the jar. Whisk well again, then secure the lid and place the jar in the fridge.

The chia seeds will gel together and thicken up in as little as 30 minutes, but you can let this sit overnight in the fridge for an easy make ahead breakfast. (The frozen fruit will thaw overnight, as well!) When you're ready to eat, remove the lid and give the chia seed pudding a stir. You can thin it out by adding additional liquid, if desired, or make it slightly sweeter by adding an extra splash of maple syrup.

Chia seed pudding will keep well in the fridge for up to 4 days, so feel free to double or triple this recipe to make several jars at once. You can also freeze chia seed pudding, for a longer shelf life. To thaw, place a frozen jar in the fridge the night before you plan on eating it.
Notes
Nutrition information is for the chia seed pudding base recipe, without additional flavorings. This information is automatically calculated, and is just an estimate, not a guarantee.
Nutrition
Calories:
255
kcal
,
Carbohydrates:
29
g
,
Protein:
7
g
,
Fat:
13
g
,
Saturated Fat:
1
g
,
Polyunsaturated Fat:
10
g
,
Monounsaturated Fat:
2
g
,
Trans Fat:
1
g
,
Sodium:
251
mg
,
Potassium:
192
mg
,
Fiber:
13
g
,
Sugar:
12
g
,
Vitamin A:
19
IU
,
Vitamin C:
1
mg
,
Calcium:
474
mg
,
Iron:
3
mg
If you try this chia seed pudding recipe, please leave a comment and star rating below letting me know how you like it!