Now that we've mastered making baked falafel at home, let's make Falafel bowls! This is my favorite way to serve falafel, because it's packed with flavor, texture, and nutrients, for a healthy meal.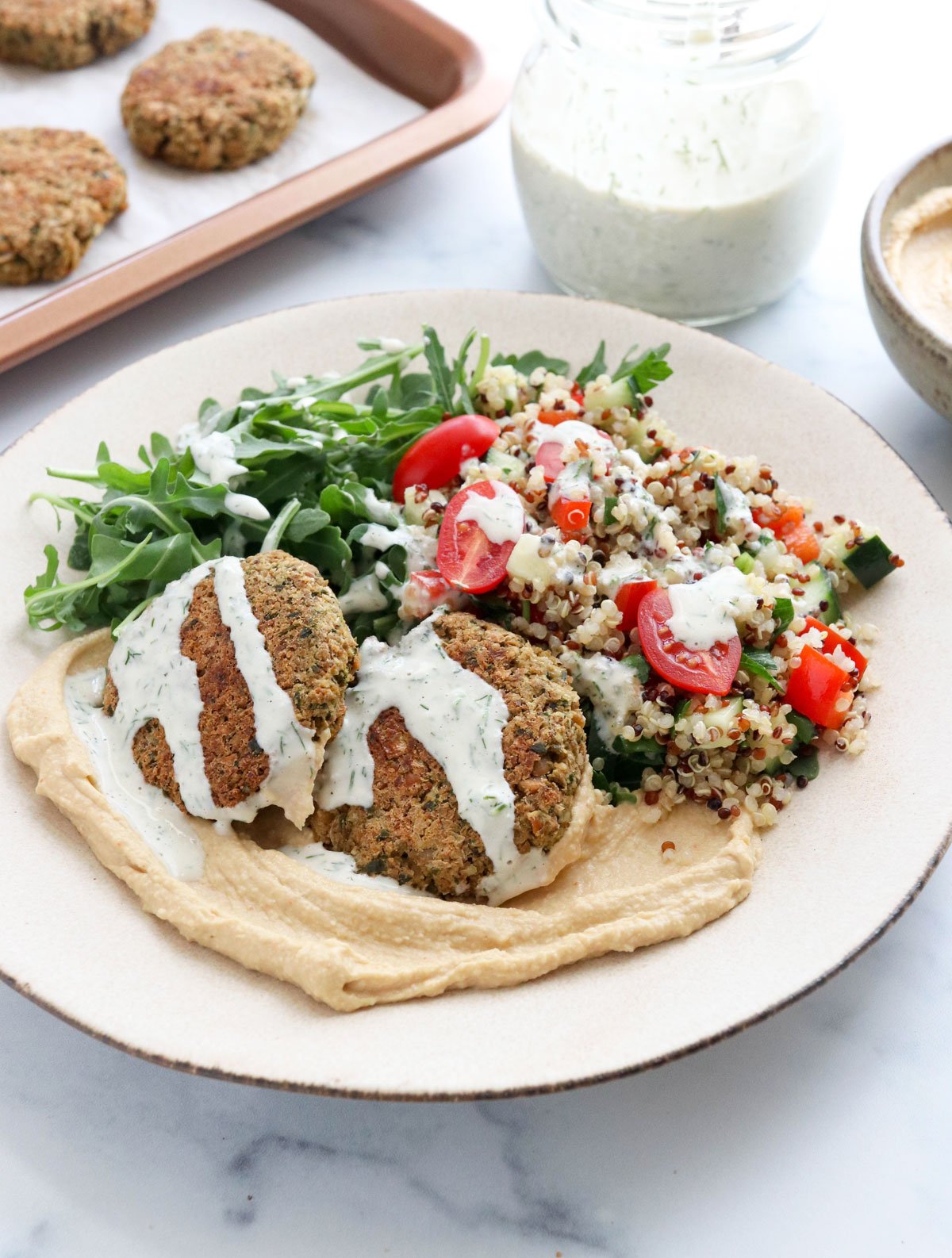 This recipe is inspired by the Mediterreanean Platter at Swinger's Diner, which is one of the first restaurants I remember visiting when I first moved to Los Angeles.
They inspired my Tahini Dill Dressing recipe, too!
Ingredients You'll Need
What's in a Falafel Bowl? This is really a build-your-own-adventure type of bowl, but I find these components work well with falafel flavors.
Using a quinoa salad as the base eliminates the need for chopping extra veggies, and using a Greek salad instead of plain leafy greens takes the flavor to the next level. But, you can really use whatever you have on hand to make your life easy.
Other dressing ideas: Cucumber Tahini Dressing, Lemon Tahini Dressing, or Cilantro Sauce.
Why You'll Love It
It's nutrient-dense. There are no empty calories in this falafel bowl. The hummus and veggies all add nutrients, and when you serve it with quinoa, you'll be getting a complete source of plant-based protein, too. (Just like hemp hearts, quinoa has all the essential amino acids your body needs!)
You can make it ahead. If you like to prep on the weekends, you can make the falafel, quinoa salad, hummus, and dressing ahead of time. It takes 5 minutes to assemble once you have the components ready, for a fast & healthy meal.
It's flexible. Don't have something on hand? It's easy to make swaps! Leave off the quinoa salad if it's too much work and swap it for sliced pita bread or some crunchy crackers. Any veggies can be used in this bowl, so feel free to clean out your fridge!
Gluten-free & vegan. When you don't add cheese to this bowl, it's a vegetarian platter that tastes like it came from a restaurant!
It tastes amazing. This is the #1 reason why I love this bowl. The combination of creamy hummus, crunchy veggies, tender falafel, and a tahini dressing is unbelievable.
Are you ready to try it?
Falafel Bowls
These Falafel Bowls are an easy make-ahead lunch, featuring baked falafel, hummus, and a creamy tahini dressing. It's nutrient-dense and so flavorful!
Instructions
Prepare the individual components, including the quinoa salad, hummus (or use store-bought), falafel, and tahini dressing. Use the links above if you need recipes, or use your own if you already have a favorite.

To assemble, spread a 1/4 cup of hummus on the bottom of the plate, followed by a large scoop of quinoa salad (about 1/2 cup). Add 1 cup of fresh arugula, along with 2 to 3 falafel patties. (If using cold falafel, you can reheat in a pan over medium-high with 1 tablespoon of olive oil for 2 minutes on each side.) Drizzle with tahini dill dressing, and serve right away.
Notes
Nutrition information is for 1 bowl, but these calculations will vary based on the ingredients and amounts that you use.
Feel free to add any other chopped veggies or toppings that you like! This is only a suggestion to help get you started.
Nutrition
Calories:
401
kcal
,
Carbohydrates:
36
g
,
Protein:
15
g
,
Fat:
24
g
,
Saturated Fat:
3
g
,
Polyunsaturated Fat:
10
g
,
Monounsaturated Fat:
9
g
,
Sodium:
256
mg
,
Potassium:
520
mg
,
Fiber:
8
g
,
Sugar:
1
g
,
Vitamin A:
519
IU
,
Vitamin C:
4
mg
,
Calcium:
115
mg
,
Iron:
5
mg
If you try these Falafel Bowls, please leave a comment below letting me know how you like them!
–
Reader Feedback: Do you like seeing these type of build-your-own-bowl style recipes? This is how I eat most often at home, throwing a few recipes together, but let me know what is the most helpful to see here on my website.