This Pumpkin Spice Latte recipe is easy to make at home, using only 5 simple ingredients. You can use home-brewed coffee to make it, so you don't need an espresso machine or any specialty syrups. It's naturally sweet, and much more affordable than going to a coffee shop!
You can make this recipe on the stove top, or in a blender, in just 5 minutes. The blender version is inspired by my popular Instant Vegan Latte, for a stronger coffee flavor below.
What is in a Pumpkin Spice Latte?
Starbucks has made this drink wildly popular, and their version is made with milk, espresso, and a pumpkin spice syrup, which contains sugar, milk, natural flavors, and more. (You can see their nutrition info disclosed here.)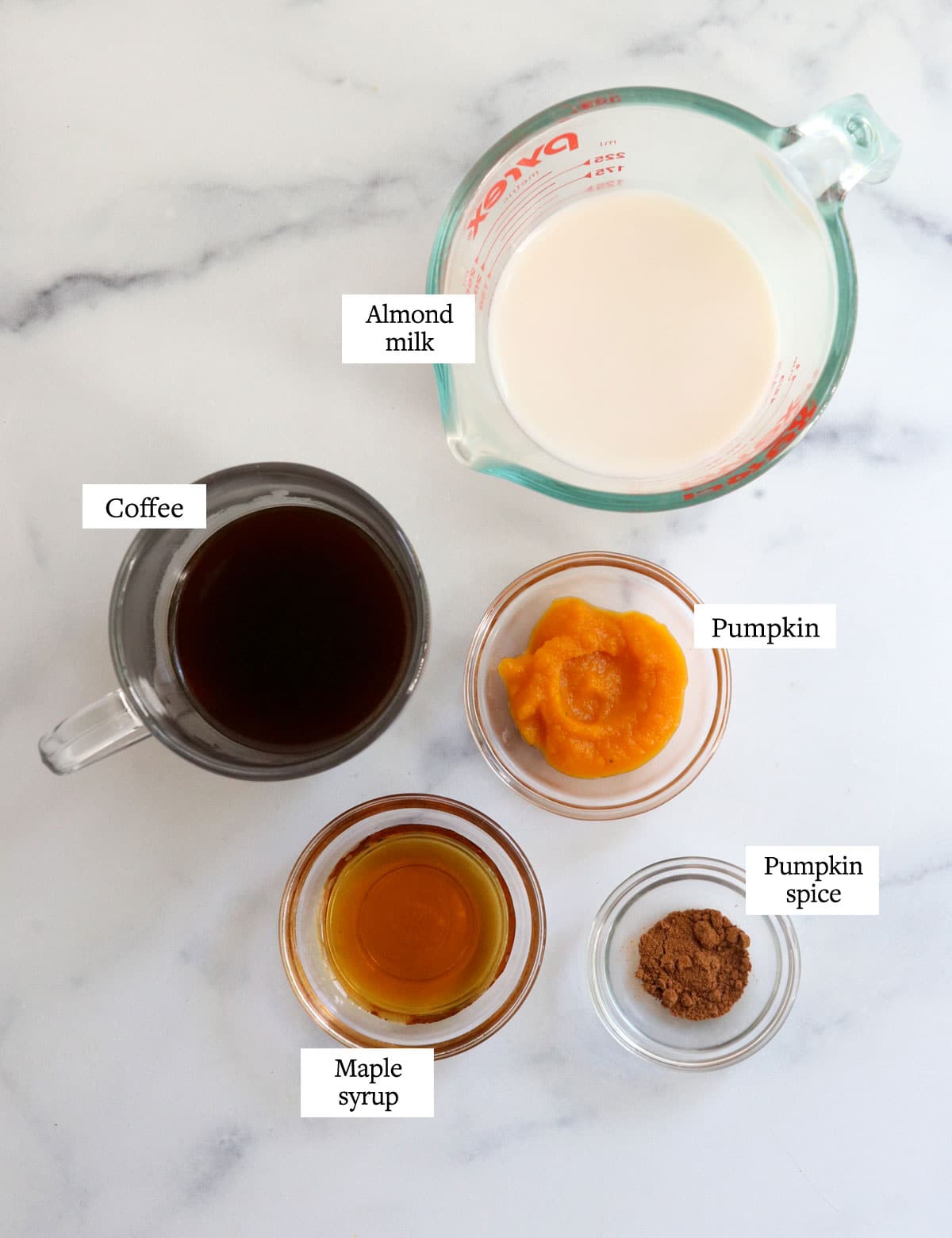 This healthy Pumpkin Spice latte is a lighter alternative, using 5 easy ingredients.
Pumpkin puree
Brewed coffee
Milk of choice
Pumpkin pie spice
Maple syrup
It tastes like a decadent coffee drink, without using refined sugar or preservatives. You can use 2% milk, skim, or your favorite non-dairy milk to make it at home!
Tip: Make Your Own Pumpkin Spice
Pumpkin pie spice is a blend of spices that you can buy as a pre-made mix for convenience, but you can also make your own.
To make your own pumpkin spice mix, combine:
1/4 teaspoon ground cinnamon
1/8 teaspoon ground ginger
pinch of ground nutmeg
pinch of ground cloves or allspice
You'll only need a 1/4 teaspoon of this mix for the recipe below, but if you make two servings, you can use all of it! Or, follow my pumpkin pie spice recipe to make a larger batch that you can store for later.
How to Make a Pumpkin Spice Latte
1. Stir together the ingredients. Add the coffee, milk, pumpkin, maple syrup, and spice to a small saucepan and whisk them together to make sure the pumpkin is incorporated smoothly.
In my experience, a whisk works better for stirring than a spoon does, but you could also use a fork.
2. Warm it up. Bring the mixture to a gentle simmer, over medium-high heat. As soon as it starts to simmer, you can test the temperature by scooping up a spoonful, and when it's as hot as you'd like it, you can pour it into a mug.
3. Enjoy! Garnish your latte with whipped cream and extra pumpkin pie spice on top, for a coffee drink that looks like it came from a coffee shop. Use coconut whipped cream to keep it dairy-free.
I typically make this recipe with almond milk, but you can use any milk you love. For a nut-free, non-dairy drink, you can also make this using hemp milk.
Tip: I only recommend using homemade oat milk for cold lattes, because it will thicken when heated, which isn't always pleasant. Store-bought oat milks should heat up just fine, though, thanks to their added ingredients.
Helpful Tips
What does a Pumpkin Spice Latte taste like? The latte from Starbucks is very sweet, but it doesn't have a prominent pumpkin flavor. (In fact, in previous years they didn't even include real pumpkin in the syrup! Now they do.)
This homemade latte is less-sweet if you make it as written, but you can always add more sweetener to make it taste how you want it to. I think 1 1/2 tablespoons of maple syrup makes it taste like a coffee shop version. The perk of making it at home is that you're in total control of the final outcome. You can use honey or maple syrup, which both easily dissolve into the drink.
How does pumpkin affect the texture? Adding pumpkin puree to coffee can give it a slightly grainy texture if you let the drink rest too long, so keep that in mind when making this! Just stir it again to re-incorporate, if needed.
Can you make it without coffee? If you don't care for coffee, feel free to use extra almond milk instead, for a caffeine-free drink. (When I worked as a barista, we called it a "steamer.") You could also use your favorite tea to replace the coffee, similar to a London Fog drink.
Can you make it iced? Yes, of course! Simply whisk the ingredients together and serve it over ice.
How to Make a Pumpkin Spice Latte in a Blender
This blended pumpkin spice latte gets its creaminess from almond butter instead of milk, which gives it a more concentrated coffee flavor. I think this version tastes even more similar to a version made with espresso.
This version even gets a nice foam on top, like a real latte, even though it's made without milk.
In a blender, combine:
1 cup hot brewed coffee
1 teaspoon almond butter (or cashew butter)
1 tablespoon maple syrup (or honey, if not vegan)
1 tablespoon pumpkin puree
1/4 teaspoon pumpkin pie spice
1. Blend. Add the 5 ingredients together in a blender, and blend until the mixture looks smooth and creamy.
2. Enjoy! Pour the latte into a glass and serve warm right away. This version even develops a foam on top, like a real latte. Feel free to double the batch, if you need more than one serving, too.
I can't wait to hear which version you try. I hope you'll love it as much as I do!
Pumpkin Spice Latte
This Pumpkin Spice Latte recipe calls for just 5 simple ingredients, using home-brewed coffee. It's naturally sweet and more affordable than a store-bought latte!
Instructions
In a small saucepan over medium-high heat, combine the ingredients and use a whisk to stir, incorporating everything smoothly.

As soon as the mixture starts to simmer, stir well to make sure it's evenly warmed up, then pour into a mug and serve right away. You can adjust the flavoring to taste, adding more maple syrup (I like an extra 1/2 tablespoon), or more spice, depending on your preference. You can also add more coffee for a stronger coffee flavor. This recipe is best served warm right away, as the pumpkin will start to separate as it sits, but you can simply give it a stir to reincorporate everything again.
Video
Notes
Nutrition information is for the whole batch, using almond milk. This information is automatically calculated, and is just an estimate, not a guarantee.
Prefer a stronger coffee flavor? You can make a blender version instead by combining 1 cup of brewed coffee, 1 teaspoon almond butter, 1 tablespoon pumpkin puree, 1 tablespoon maple syrup, and 1/4 teaspoon pumpkin pie spice. Blend until smooth and creamy, and serve right away for a more concentrated coffee flavor that tastes like it was made with espresso.
See the full post for more tips & tricks!
Nutrition
Calories:
79
kcal
,
Carbohydrates:
16
g
,
Protein:
1
g
,
Fat:
2
g
,
Saturated Fat:
1
g
,
Polyunsaturated Fat:
1
g
,
Monounsaturated Fat:
1
g
,
Sodium:
168
mg
,
Potassium:
137
mg
,
Fiber:
1
g
,
Sugar:
13
g
,
Vitamin A:
2336
IU
,
Vitamin C:
1
mg
,
Calcium:
181
mg
,
Iron:
1
mg
If you try this Pumpkin Spice Latte, please leave a comment below letting me know how you like it!
—
Reader Feedback: Which pumpkin recipe would you like to see next?